Xavier Chiriboga:
The Man Behind the Racer
Xavier Ernesto Chiriboga.
Remember the name.
We met Xavier by chance. Through a friend, we learned he had signed up for The Stagecoach 400 and his eyes were fixed on first place.
It turns out, when Xavier sets his sights on something, he means business. Rolling over the line in first place, having tackled 400 miles in just under 2 days and setting a new FKT, Xavier stamped his mark on the bikepacking racing world, and it looks like he's here to stay.

Samuel Johnson, HUNT US Market Manager, catches up with Xavier to learn a little more about the man behind the racer.
SJ: Hey Xavier, so pleased to get some time with you, I appreciate you're busy, so I'll cut to the chase, tell us about you.

I was born in Ecuador, South America, in a 6 generations family of farmers, so you can consider me a milkman, cowboy or just a farmer. The enviroment I grew up in turned me to adventure, also since I was kid my skills in sports made me a great competitor and I felt I was always going beyond the expectations.
In middle school my main interest lay in Tae Kwon Do and in high school, track and field, which saw me get into the Ecuador National Team. When I was studing Agroindustrial Engineering at university, I was the captain of the soccer team, and for a few years I dropped off the structured training in sports and just played for fun, mostly ecuavolley, which is a variation of volley, its played in teams of 3 and with a soccer ball. When my daughter Manuela was born I wanted to show my passion for sports and show her what you can achieve, but showing her pictures from the past wasnt enough to encourage her. Thats when I decided to go back training, and the best option at that moment was trail running, a sport very familiar with my track and field experience.
Day by day adventure racing got into my veins and I started to participate in National Championships, with lot of training I strive to win most of the important races in trail running, adventure racing and mountain biking. With all this experience the next step was to try out Ultracycling and make the name Xavier Chiriboga known around the world.
SJ: How did you get into adventure racing? From what I know it's a pretty unique journey.

It's funny how I started adventure racing and how this experience made me realize that big things can be done without the most expensive materials. The day before an adventure race, one of my brother's teammates was injured, and he called me telling me that I can do it and that it would not be that hard, at that time I wasn't training at all, my days of training hard in track and field where over, but my brother told me not worry and my muscles would remember.


I ended up racing in soccer shoes, with a borrowed steel bike and no cleats. I remember that my shorts where printed with the number 3, like on a pair of soccer shorts, I didn't have any cycling bibs and I wish I could tell you that it went well but totally not... I was devastated, swearing that I wouldn't do it again, my head was shocked as I was so used to winning in track and field, but it actually encouraged me to try again, and this time, prepare for the race. At that time my longest race was 20 km, so I took a big step and entered my first long adventure race, the world adventure championship that was due to take place in Ecuador, a 700 km race of running biking and kayaking, it took us 6 days and I dont know how i finished. I knew that the human body is like a weapon and a temple, that you have to cultivate it and it can take you anywhere.
My first bikepacking race was the Trans Ecuador Race, a 600 km with 20000 meters of climbing with the FKT of 88 hours with just almost 5 hours of sleep. I won it on a chinese bike with DIY frame bags made by me, from shower courtains, ductape, the front bag was a makeup bag that I took from my sister.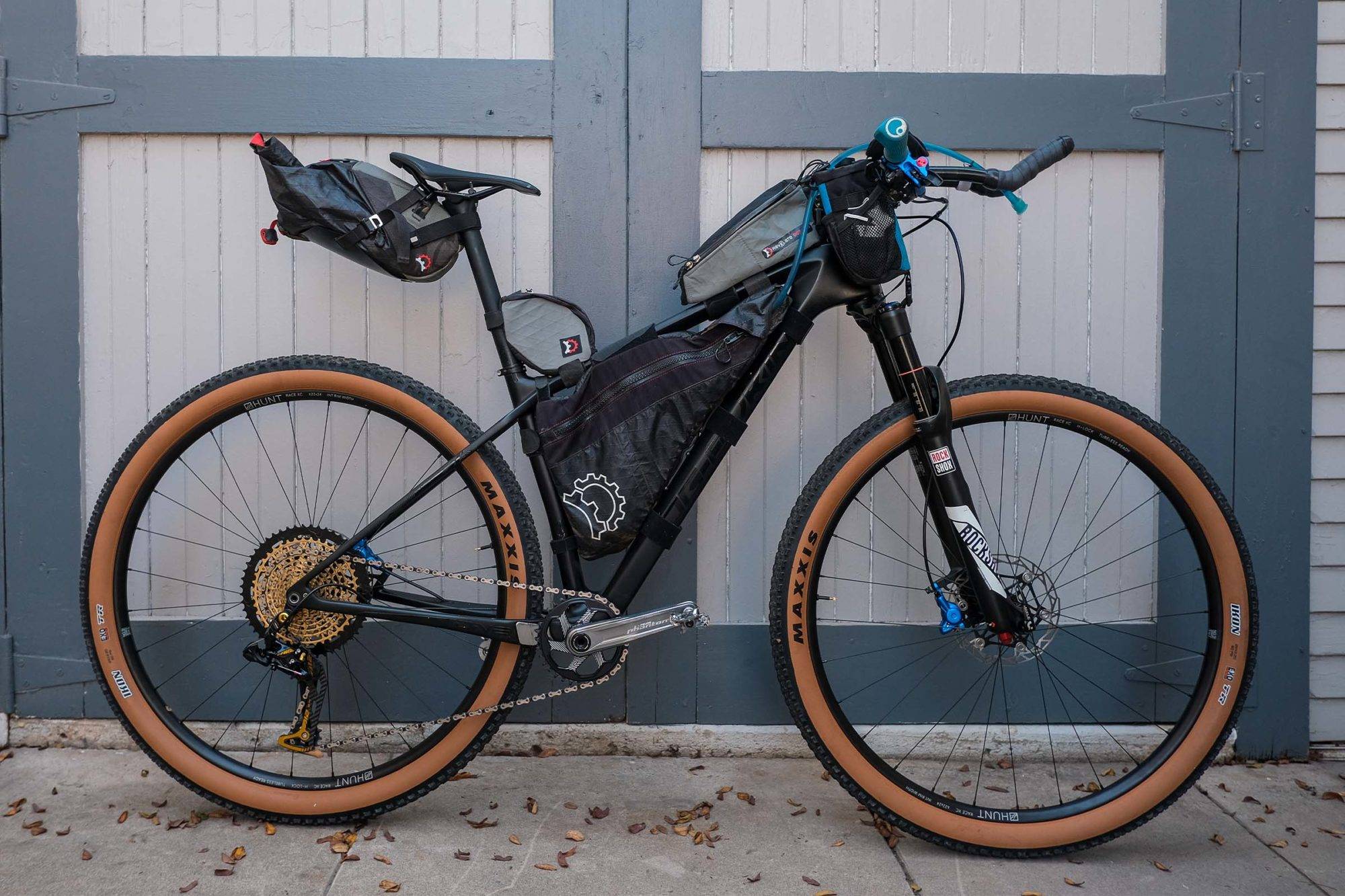 SJ: That's pretty awesome Xavier, and leads us on to how we met. We heard from Cale that you were planning to race at The Stagecoach 400 with a bike you had to build from scratch, on top of that you were gunning for the FKT (fastest known time), he seemed pretty confident that you had it in the bag, and with good reason. Can we hear how Stagecoach 400 went from your perspective?


Stagecoach was just a magic race. Four years ago I met Cale Wenthur, when he was travelling around Ecuador. He was riding the TransEcuador route and we met at the airpport, I just saw him with his bikebox, and told him to come to my house so we can ride together, he didn't hesitate and we rolled out together. In the middle of the ride he told me that I had to go race Stagecoach as he believed I will perform in the best way, so he was kind of the promoter in my bikepacking career, and something that I will never forget.

I started planning and it wasnt until 2022 that it all came together. It was really difficult for me to buy a new bike, because the prices of bikes in Ecuador are twice as expensive due to all the import taxes, and also I like to live simply and really don't have the budget to buy a fancy bike. I decided to build a bike from scratch, lots of reviews on the internet made me decide to assemble a bike with Cales expertise. Most of the parts where bought off a Aliexpress and chinese Ebay, Hunt Bike Wheels were the only special piece of equipment that I had on my bike, and they really made a difference. All of this planning, sourcing and building went exactly like I wanted it to and the result went exactly how I planned, I came first and broke the record time course by two hours, 37 hours and 20 minutes, and i think my international bikepacking vocation starts.
SJ: So now your name is known in the ultra endurance racing world, what's next for Xavier Chiriboga?


I just finished the goals for first months of the year, doing The Stagecoach 400 in California, and the Gravel Fest 360 km in Ecuador, the goal of winning was achieved. Now I have another bikepacking race to prepare for on the 25th June called Bones to Blue, a 250 mile race in Truckee, California.

At this moment I will start my preparation in adventure racing, a sport that involves ultracycling, ultrarunning kayaking and orienteering. The National Championship will be on July, this is the qualifying race for the Adventure Racing World Championship that will take place in Paraguay on September 15th. Inbetween that I will racing some 30 miler mountain bike races, and finally finishing the year off with the Across Andes, a 1000km gravel race in Chile.
---
---